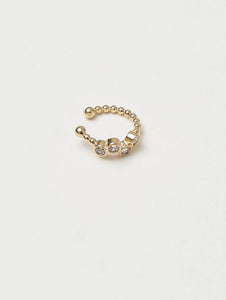 Shiny Ear Cuff
METAL 24k gold-plated over brass with Cubic Zirconia details SIZE 13 x 12mm  CLOSURE adjustable
DESIGNER NOTE  Designed to decorate your ears without the pain of a piercing, the Shiny Ear Cuff adds a personalized detail to all of your favorite fits.
STYLE TIP: Place on your helix for a casual wear or pair with some hoops for a more dressed up look.
ALLERGY INFORMATION: Hypoallergenic
Handmade in the U.S.